Which SAFe certification course is the best pick for you
SAFe has become one of the preferred development and delivery frameworks for scaling agile in enterprises. That being said, with many Agile certifications it often becomes challenging to pick one that promotes your career; benchmarking your agile skills and practices precisely. 
Agile certification programs are opposed by many veterans who argue that most certification programs have lenient vetting, lax training and exam requirements. Furthermore, these opponents believe that certification only proves that an individual is book smart and reveals nothing about his or her expertise.
These opinions often give rise to the question:
Is SAFe Certification really worth it?
Agile frameworks are nothing new, and they have been into existence for decades. However, industry leaders believe that instructor-led agile training certificates help improve an organization's overall environment.
It is seen that curriculums like Scaled Agile courses spark the collaborative mindset around agile methods. Such courses instill the team-think approach among development teams and with the end goal being a certification; employees are often more interested in training.
To answer the question, yes SAFe certification can give a boost to your career as well help you to understand the intricacies of scaling agile at the enterprise level.
With SAFe large enterprises are able to implement the agile methodology to their existing projects and allow large teams to work more effectively. Now scaling agile practices to enterprise levels effectively requires some level of knowledge, skill and experience in SAFe. As a matter of fact, SAFe is one of the few frameworks that are proven to combine lean and system thinking efficiently with Agile development practices.
Check out the current special offers and promotions for SAFe training



How SAFe updates your skills?
Corporations of all size benefit from SAFe methods to increase revenue on investment. Here are four reasons why you should seriously consider getting a SAFe certification:
1) Deal With Agile Adoption Challenges
It is fairly easy to adopt agile in small organizations with one or two teams. The problem arises when you try to replicate the same success at the enterprise level. It is because agile practices and processes being used in small teams are not best suited to scale at the enterprise level. Leading SAFe training equips you with the required skills and tools to scale agile across the enterprise without any fail.
The skills you learn with SAFe training courses enable you to align multiple development teams, achieve IT collaboration working with different departments and still deliver value to customers and be in line with organizational goals and vision.
2) Fewer delays, obstacles and failures in SAFe implementation
In large organizations, there are multiple teams and business departments that already use agile internally. But when you bring them together then failures and obstacles start to arise that if not controlled early on easily get out of hand. SAFe training skills you enough so that you can implement a uniform agile approach throughout the enterprise.
Clashing or out-of-line agile practices will no longer be a problem for your teams as you will be able to guide them to adopt a consistent approach that will enhance product quality and architecture. Certifications like Leading SAFe allows entire organization to use Agile Release Train to plan, execute and deliver value bringing multiple teams together effectively.
3) Understand the new roles in an agile environment
Scaling agile at the enterprise level will require you to create new roles and change the existing ones. If you do not understand what new roles are to be created or which one needs to be changed and how to change them, challenges will arise.
To avoid these challenges and avoid fear across the entire organization regarding the potential of existing roles, SAFe courses provide you with knowledge of management skills that will help existing and new team members to adopt the new agile mindset and practices. The managers, executives and product owners can only understand with training their roles and changes to be made across teams at program and portfolio level.
4) Consistency at all levels
Without proper training, implementing agile across your enterprise can be challenging as maintaining consistency across different departments become difficult. SAFe certification is all about learning the skills to establish and maintain consistent strategy across the enterprise.
Upon training completion, you will have the knowledge to understand what processes and principles need to be used to align multiple departments along the same strategy.
SAFe training equips you with the skill to clearly communicate your strategy at the program and portfolio levels. SAFe is the framework that allows you to implement Lean consistently across the organization.
These are the reasons why SAFe certification is worth your time and money. You learn to understand key roles and responsibilities, processes and metrics that allow you to align multiple agile development teams together without failing.
Choosing the right SAFe Certification
Choosing the right SAFe training course that aligns with your current position in the organization and the future goal you are targeting is important. Through this, I am going to provide you with an insight into the available SAFe training courses, where to start and how to prepare for the SAFe exam. The shared information will set you on the right path to make most of training.
The first step towards picking the most suited SAFe certification is to understand what each of the courses has to offer so as to make an informed choice.
Scaled Agile, the provider of SAFe offers 13 certification courses including the framework-based courses. These are:
1. SAFe Agilist Certification (SA)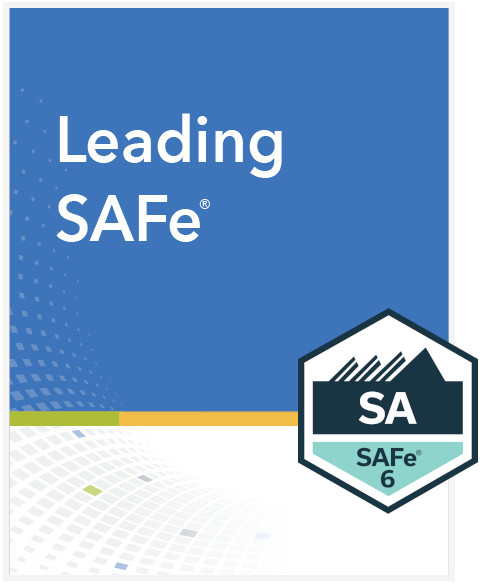 It is a 2-day course which is an excellent starting point for someone new to SAFe. It covers all the Scaled Agile Framework principles and practices along with an introduction of what it means to lead Lean-Agile transformation and how to adopt a Lean-Agile mindset. This Leading SAFe training course is also ideal for leaders in an organization who want to join the transformation team.
Learning Goals of Certified SAFe® Agilist (SA) Course:
Understand 5 core competencies of the Lean Enterprise

Learn and apply Lean-Agile Mindset values and principles

Become a Lean-thinking manager-teacher

Create high-performance teams applying SAFe

Able to apply SAFe's Lean and Agile principles to existing and new SAFe roles

Become transformation leader to deliver SAFe Implementation Roadmap

Drive Release on Demand making use of Continuous Delivery Pipeline

Support PI Planning

Plan alignment strategy with Strategic Themes and Lean Portfolio Management

Coordinate multiple Agile Release Trains with a Solution Train
2. SAFe Program Consultant (SPC) Certification
The SPC is a 4-day course which entails training software developers and executives to coach programs, adopt DevOps culture, build a continuous delivery pipeline, launch Agile Release Trains, and empower a Lean Portfolio. The first two days of the courses deal with Leading SAFe that offers a basis of SAFe. The final two days focus on learning how to implement SAFe approach in your enterprise.
On completion of this course, you will be ready to take the position of a Lean-Agile leader who can lead digital transformation at the enterprise level. This course opens a lot of exciting opportunities for you.
Learning Goals of Certified SAFe® Program Consultant Course:
Train executives and managers in Leading SAFe®

Lead an enterprise Lean-Agile transformation

Empower a Lean Portfolio

Implement the Scaled Agile Framework (SAFe) at the enterprise level

Able to perform Value Stream identification

Align different teams in the organization to a common language and working strategy

Launch and support Agile Release Trains

Build and execute an implementation rollout strategy

Configure the SAFe Framework to support a specific enterprise context

Learn and grow to be able to train other SAFe roles in the enterprise
3. Certified SAFe® Practitioner
SAFe Practitioner (SP) Certification includes the SAFe for Teams course. If you work in the Agile Release Train team in a SAFe enterprise then this certification will provide you with the skills to better your role. This is a two-day course focused on offering in-depth understanding of ARTs, plan and execute iterations and learn how to write user stories.
Learning Goals of Certified SAFe® Practitioner Course:
Learn to apply SAFe to scale Lean and Agile development at the enterprise level

Plan Iterations

Know their team's role on the Agile Release Train

Know all other teams on the ART, and their dependencies on other teams

Execute Iterations and demonstrate value

Learn to integrate and work with other teams on the ART

Plan Program Increments
4. SAFe Scrum Master (SSM) Certification
A 2-day course that details the role of a Scrum Master in a SAFe environment. This course explores the role of a Scrum Master at an enterprise level in depth. After taking this course you will be able to plan and execute Program Increments and build high-performing agile teams as a Servant Leader and Coach. This SAFe certification is ideal for existing and new Scrum Masters who want to join teams in a SAFe enterprise.
Learning Goals of Certified SAFe® Scrum Master Course:
Identify Scrum role in a SAFe enterprise

Facilitate Scrum events and effective Iteration execution

Be able to support effective Program Increment (Releases) execution

Support relentless improvement

Coach Agile teams

Support DevOps implementation
5. SAFe Advanced Scrum Master (SASM) Certification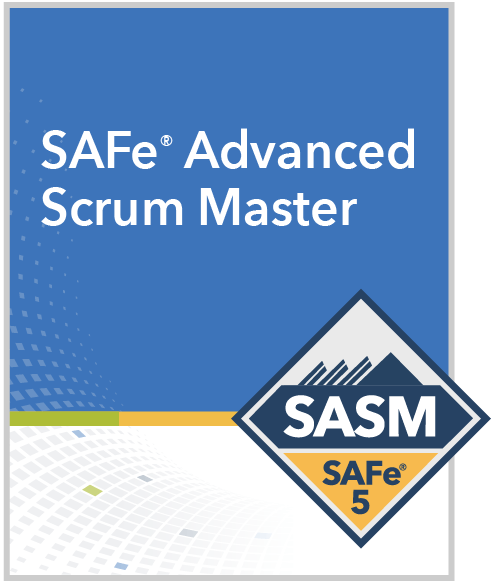 SASM is entirely focused on training existing Scrum Masters to take on a leadership role in an enterprise with SAFe environment. This is a two-day course that introduces Scrum Masters to the concept of scalable engineering, application of Kanban and DevOps practices, all of which facilitate the flow of value.
Learning Goals of Certified SAFe® Advanced Scrum Master Course:
Enable Scrum Masters to apply SAFe principles to facilitation, enablement, and coaching in a multi-team environment

Identify and address Agile and Scrum anti-patterns

Build a high-performing team

Support the adoption of scalable engineering practices, Agile architecture, and DevOps

Optimize flow of team's work by applying Kanban eXtreme Programming (XP) frameworks

End-to-end systems value program planning, execution, and delivery

Encourage learning through participation in Communities of Practice and innovation cycles
6. SAFe Release Train Engineer (RTE) Certification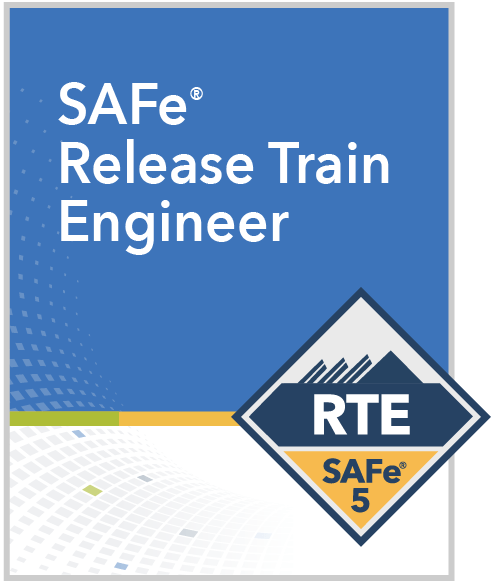 A certified RTE is able to take full control of an Agile Release Train by guiding, coordinating and organizing all the team. You will also be able to participate in pre and post-PI meetings and drawn up PI objectives on completion of this course. If you are a new Release Train Engineer, Program Manager, Scrum Master, Agile Coach, SPC or PMO, this 3-day course will benefit you.
Learning Goals of Certified SAFe® Release Train Engineer Course:
Learn about Lean-Agile and apply the knowledge to execute and release value

Foster relentless improvement

Assist with program and large solution execution

Build a high-performing Agile Release Train

Develop an action plan for teams to continue learning
7. SAFe Product Owner/Product Manager (POPM) Certification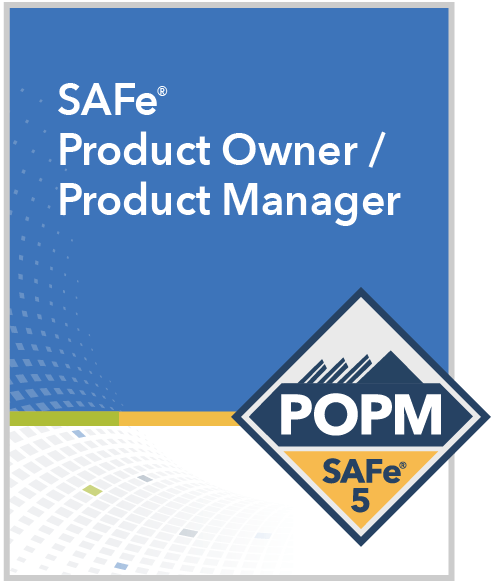 A 2-day Scaled Agile course, this certification is for Business Owners, Product Managers, Business Analysts and Product Managers. This course teaches you to identify your existing role with a Lean-Agile mindset. On completion of the course, you will be able to plan PIs, launch ARTs and deliver continuous value for your enterprise.
Learning Goals of Certified SAFe® Product Owner/Product Manager Course:
Connect PO/PM roles to the SAFe Lean-Agile principles and values

Apply SAFe in the Lean enterprise

Lean Portfolio Management Collaboration

Explore and execute Program Increment Planning for continuous value delivery

Articulate the Product Owner and Product Manager roles

Create a role action plan
8. Certified SAFe® DevOps Practitioner (SDP)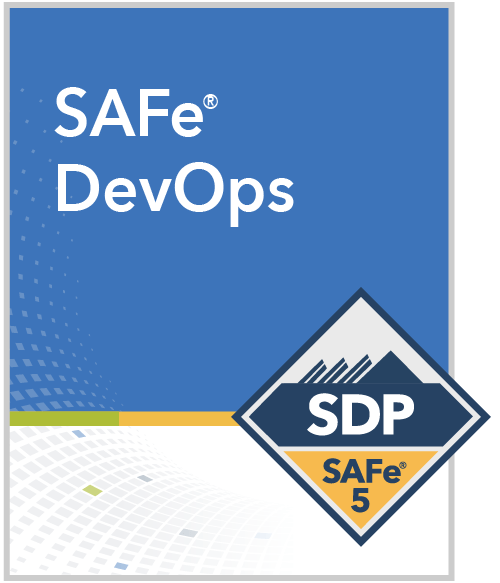 This is a comprehensive 2-day course that gives you an overview of DevOps competencies that will help you improve the flow of value through the Continuous Delivery Pipeline.
Learning Goals of Certified SAFe® DevOps Practitioner (SDP) Course:
Overview of CALMR approach to DevOps

Apply the concepts of continuous security

Understand the importance of continuous integration and continuous testing

Measure the flow of value through the delivery pipeline

Identify gaps and delays in flow within a SAFe environment

Improve customer needs exploration process

Improve the process of developing, building, and integrating continuously

Improve the release process

Continuously deploy to staging and production environments

Execute DevOps transformation plan
9. Certified SAFe® Government Practitioner (SGP)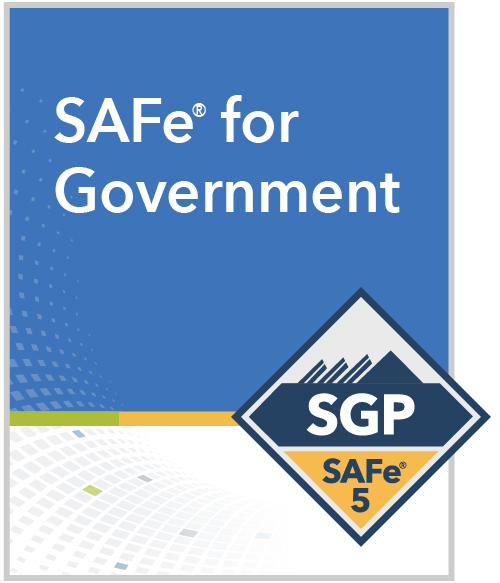 This SAFe certification is entirely focused on imparting skills for building technology-based Lean-Agile practices in the government context by learning the right information and strategies. In this 2-day course, attendees will learn to use SAFe for Lean-Agile transformation of a program inside a government agency.
Learning Goals of Certified SAFe® Government Practitioner (SGP) Course:
Lead the transition of government programs from traditional software and systems development to DevOps and Lean-Agile mindset via SAFe

Adapt technology strategy and governance processes to flow-based practices keeping the emerging government guidelines in mind

Organize government programs into one or more Agile Release Trains (ARTs)

Explore Large Solution coordination in a government-based entity

Identify leader behaviours and make essential strategies for successful Lean-Agile transformation

Successful SAFe implementations to the government context

Build a preliminary outline for SAFe implementation in your program or agency
10. Certified SAFe® Agile Software Engineer (ASE)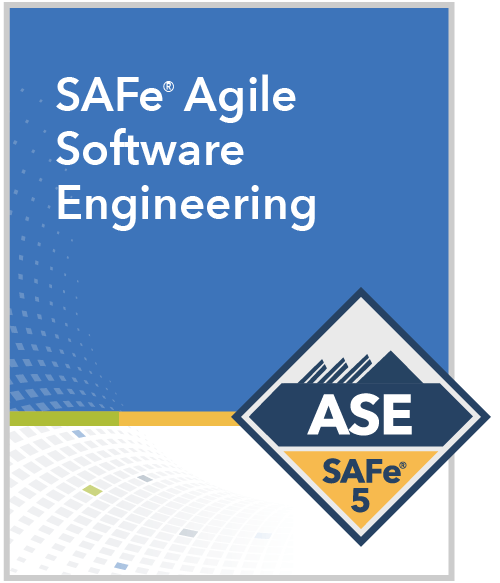 This is a 3-day workshop-oriented course that will help software engineer to learn the foundational principles and practices of the Agile Software Engineering help deliver software-centric solutions faster with higher quality in a more predictable manner.
Learning Goals of Certified SAFe® Agile Software Engineer (ASE) Course:
Learn underlying principles and values of Agile Software Engineering

Apply the Test-First principle

Understand Behavior-Driven Development (BDD)

Communicate with Agile modelling

Build applications with code and design quality

Design from testability POV

Automate testing infrastructure

Collaborate on intentional architecture

Optimize flow of value with Lean-Agile Principles

Create Agile Software Engineering plans
How to prepare for the SAFe certification exam?
Scaled Agile has designed all of the above courses to test students' theoretical and practical knowledge to fulfil their roles in a SAFe environment especially in an enterprise.
In general, SAFe exam is hard and you should not take it lightly. This is why it is essential to attend the respective SAFe training courses and learn to apply Lean-Agile principles to real-life scenarios that can only be achieved by rigorously preparing for the exam.
 It will be easier for you to prepare for Leading SAFe by referring to Scaled Agile Framework in detail. You can learn more about each Safe Certification by visiting Scaled Agile website. Here you will also find sample questions and mock tests.
---
Frequently Asked Questions (FAQs)
Which Scaled Agile Framework (SAFe) certification course is the best pick for me?
The best SAFe certification course depends on your role, experience, and career goals. For team members and developers, the SAFe Practitioner (SP) and SAFe for Teams (SFT) certifications are a good start. Project managers, Scrum Masters, and Agile coaches should consider the SAFe Advanced Scrum Master (SASM) or SAFe Release Train Engineer (RTE) certifications. For leaders and executives, the Leading SAFe (SA) and SAFe Program Consultant (SPC) certifications are recommended.
How can I determine which SAFe certification course is most relevant to my professional goals?
To choose the most suitable SAFe certification course, consider your current role, industry, and objectives. Review the course descriptions on the Scaled Agile website to understand which certifications align with your goals, or consult with experienced professionals or mentors in your field for guidance.
How long does it take to complete a SAFe certification course?
The duration of a SAFe certification course varies depending on the specific certification. Most courses require 2-4 days of training, followed by a certification exam. The exam must be completed within 30 days after the course. Some certifications may require additional prerequisites or experience before enrolling.
What is the cost of a SAFe certification course?
The cost of a SAFe certification course depends on the specific certification and the training provider. Course fees typically range from $700 to $3,000. This usually includes the cost of training materials, exam fees, and a one-year membership to the Scaled Agile Framework community.
Are SAFe certifications widely recognised and accepted by employers?
Yes, SAFe certifications are highly regarded and widely accepted in the Agile community. Many employers value SAFe-certified professionals for their ability to effectively apply the Scaled Agile Framework principles in organisations, driving successful Agile transformations and improving overall project management efficiency.