The Pros and Cons of Scaled Agile Framework
There are many conflicting opinions when it comes to the effectiveness of scaled agile framework. Explore the pros and cons of the SAFe methodology here. 
Keyword(s): scaled agile framework, SAFe Agile methodology
Is your organization facing challenges when it comes to embracing agile practices? Have you considered the Scaled Agile Framework (SAFe), but you're unsure if it aligns with your needs?
While the SAFe Agile methodology may not be a perfect fit for every organization, it might just be the key element that your company needs to successfully transition to agile. We can assist you in figuring out if the SAFe approach is suitable for your organization. To do this, it is important to understand the principles of the Scaled Agile Framework.
What is Scaled Agile Framework
The Scaled Agile Framework (SAFe) is a way to introduce agile practices to large organisations while applying Lean principles. SAFe was a reaction in the software development industry to the loose and informal nature of the agile methodology. 
The pure agile approach poorly addresses legacy processes and organisations with multiple management layers. SAFe puts in place connectors between business program areas and higher-level portfolio management practices.
There are four configurations for SAFe:
Essential - the building blocks for the framework, practical in its support for small teams and programs
Large Solution - useful when there are multiple teams and programs tied together through common objectives
Portfolio - a higher-level configuration that provides a strategic view of initiatives across all domains
Full - maximizes all three levels by integrating them into one operating model
SAFe provides thorough guidance for all the configurations. The prevailing questions are: Is it too much? How well will SAFe really work? Should your organisation adopt the framework?
Since SAFe was introduced, there have been multiple versions implemented. The current iteration is SAFe 6 (1), which this article addresses.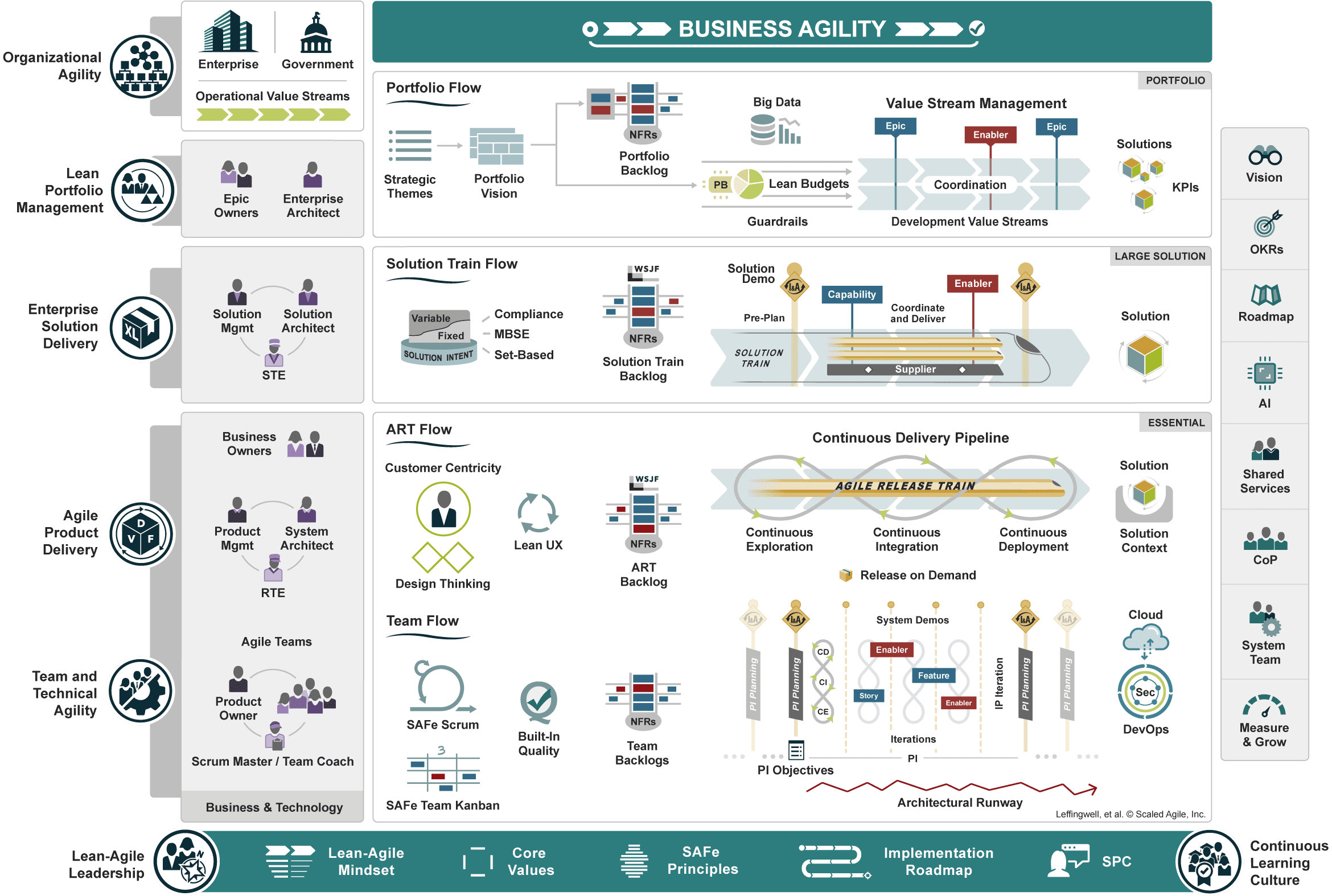 Source: https://scaledagileframework.com/
Here are the top 3 reasons how SAFe helps and 3 reasons why it won't.
Top 3 Pros
1. Help Organisations Scale to Fit
When there are cross-functional teams that need to work together, this is where SAFe provides the most value. From the lower level configuration of Essential SAFe to Full SAFe, the framework can be applied to large enterprises (2) that want to scale the agile practices. 
SAFe extends those practices beyond the team responsible for delivery. It broadens the scope to management, stakeholders, and customers so the decisions made and risks are managed consistently.
2. Program Increment Planning
Program Increment planning is the framework's method of providing clarity to the vision of what the program needs. The cross-functional teams work in concert across all the program increments and plans for delivery in the SAFe release trains.
Especially with large, complex projects that impact multiple areas, Program Increment Planning is an orchestrated process to direct teams toward common milestones and dependencies.  Structured three-day planning activity ensures consistent cadence and velocity.
3. Business Alignment
Where SAFe excels is in breaking down the various silos between the technology providers and the business stakeholders. Business is actively working with IT to prioritize initiatives and backlog items by designating value to each item.
By extending agile practices of capturing what is most important to the business, the business, in turn, can inherit the processes to reassess priorities. This creates business agility that parallels IT's model of working. This creates a seamless organisation fostering synergy between business and technology.
Top 3 Cons
1. New Terms, Activities, Processes
The agile approach's most common practice is scrum. Scrum has several concepts, artefacts, and ceremonies that are well understood. When a practitioner moves from project to project and organisation to organisation, there is little translation and a shallow learning curve.
With SAFe, there are many new terminologies (3) (not normally applied to agile) where it will take some time for teams to understand and adopt. This includes:
Program Increments
Agile Release Trains
Value Streams
Iterations
Capabilities 
Architectural Runway
Guardrails
For organisations with a deeply embedded software development culture, introducing so many concepts and terminologies can be disruptive and impact velocity.
2. Not for Small Teams
SAFe was originally designed specifically to help large organisations tackle complex projects. For small teams that don't require program increment planning or portfolio management, the framework can be overkill.
This is also especially in the case of startups, where the early phases of a company depend on changing and adopting new practices for market survival. A comprehensive framework such as SAFe gets in the way of these smaller, immature teams in creating their own niche and identity.
3. Goes Against Pure Agile Principles
While Program Increments can be smaller, they generally are seen as quarterly activities since the business already manages outcomes and expectations at a quarterly rate. The impact of introducing agile practices to business is often too expensive.
If the program priorities are set at a quarterly cycle, this creates large batches of work. Inevitably enough is bundled into the scope of a single Program Increment where it starts becoming a waterfall model.
One way to describe SAFe is it adds process to the agile approach. While it can be seen as needed to address organisational constraints and needs, the focus on process moves the framework further from the pure agile delivery model.
Making the Right Choice for the Scaled Agile Framework
It's easy for heads to spin between how SAFe helps and how it doesn't. Implementing SAFe is a major undertaking that requires a good understanding of the framework. You'll also need to assess how ready your organisation is to tackle SAFe.
Following the SAFe implementation roadmap will guide you through the critical points toward agile transformation.
The Journey Begins with Knowledge
There are many organisational nuances to consider in your agile journey, including if the cost is worth the benefit. There's no greater way to arm yourself for the task of determining if Scaled Agile Framework (SAFe) is right for you than gaining knowledge.
Advised Skills has all the technical knowledge and training to help you through implementing all four configurations of SAFe. From insightful articles to scaled agile framework certification, we have all aspects of SAFe covered. 
Take your Agile practices to the next level with our Scaled Agile Framework (SAFe) training courses - register now at https://www.advisedskills.com/courses/agile-and-scrum/scaled-agile-framework-safe and unlock your organization's full potential!
Advised Skills can help you become the SAFe leader for your organisation today!
External resources:
1. Scaled Agile Inc. https://support.scaledagile.com/s/article/SAFe-6-0-Upgrade-FAQs?language=en_US
2. Easy Agile https://www.easyagile.com/blog/scaled-agile-framework/
3. Scaled Agile Inc. https://scaledagileframework.com/glossary/
---

Advised Skills Research Team - Blog Author 
The Advised Skills Research Team is a professional group dedicated to investigating and publishing information on the latest trends in technology and training.
This team delves into emerging advancements to provide valuable insights, empowering individuals and organizations to stay ahead.
Their work significantly contributes to the ever-evolving landscape of technological education and workforce development.

Frequently Asked Questions (FAQs) about the Scaled Agile Framework (SAFe) and SAFe Agile methodology:
What is the Scaled Agile Framework (SAFe)?
The Scaled Agile Framework, often abbreviated as SAFe, is a set of organizational and workflow patterns intended to guide enterprises in scaling lean and agile practices. SAFe promotes alignment, collaboration, and delivery across large numbers of agile teams.
How does the SAFe Agile methodology differ from traditional Agile methodologies?
A: While traditional Agile methodologies such as Scrum or Kanban are usually focused on individual teams, SAFe is designed specifically to scale Agile principles to the level of large organizations. This means it involves not just the development teams, but also systematically includes higher levels of an organization in the Agile process.
What benefits can my organization expect from implementing SAFe Agile methodology?
Implementing SAFe can bring about numerous benefits such as better alignment across different teams, faster time-to-market, higher quality of products, increased productivity, and improved employee engagement and job satisfaction. It allows for synchronization across different teams and ensures that everyone is moving towards the same goal.
Is SAFe Agile methodology suitable for small organizations or startups?
While SAFe is designed with large organizations in mind, small businesses or startups may also find some elements of SAFe useful, especially as they grow. However, it is important to note that the full framework might be overly complex for small teams. Smaller scale Agile methodologies might be more appropriate for these types of organizations.
How can my organization start implementing the SAFe Agile methodology?
The first step towards implementing SAFe is to get a deep understanding of the framework and its principles. This can be achieved through training and certifications available for different roles within the organization. The implementation of the SAFe methodology usually starts with a 'SAFe Program Increment Planning' event, a large-scale planning event that aligns all teams on the same vision and goals. It's recommended to work with experienced SAFe practitioners or coaches during the initial stages of implementation to ensure a successful transformation.