The Role of Agile Business Analyst
The Agile methodology is very useful in the field of Business Analysis. Read on to find out why. 
Keyword(s): Agile Business Analyst
Agile is gaining popularity in various business areas and establishing a permanent position in many of them. It is becoming more familiar as time goes on.
Recently, it has become a very useful approach not only in Project Management or Software Development but also in Business Analysis. Getting AgileBA certification is a welcome advantage in the field of business and labor market. Why is it so important?
Let's start at the beginning. What is agile? 
Agile (1) is basically a methodology that makes team performance easier. The teams use an agile approach to make their work simple, organized and less stressful. Agile management's main assumption is to keep the results monitored and assessed so that the team is able to react to changes quickly, which has an impact on the final outcome of the project. 
Agile Business Analyst 
The term "Agile Business Analyst" specifically describes a Business Analyst (BA) adeptly working within the Agile paradigm. Agile is different from traditional methods.
It focuses on quick changes, constant feedback, and flexibility. It does not rely on strict processes and detailed planning. The Agile Business Analyst is not a typical BA. They understand the dynamic and fluid nature of Agile processes.
Just a few years ago, people strongly associated the image of a Business Analyst with more conventional project frameworks. These BAs, with lots of documentation and a love for detailed planning, seemed opposite to the ever-changing Agile world. They were not consistently involved in Agile projects because it was seen as unnecessary or burdensome due to conflicting methods.
However, as the business world started to lean more heavily into Agile's advantages, this perspective began to shift. Organizations started recognizing the inherent value a BA could bring, even within the Agile framework.
Today, it's no longer a rarity to see Business Analysts embedded in Agile projects. Actually, people have made it the norm.
BAs are crucial in Agile settings. They have a deep understanding of business needs. They can effectively translate stakeholder needs into actionable tasks. Additionally, they play a vital role in facilitating clear communication within a project.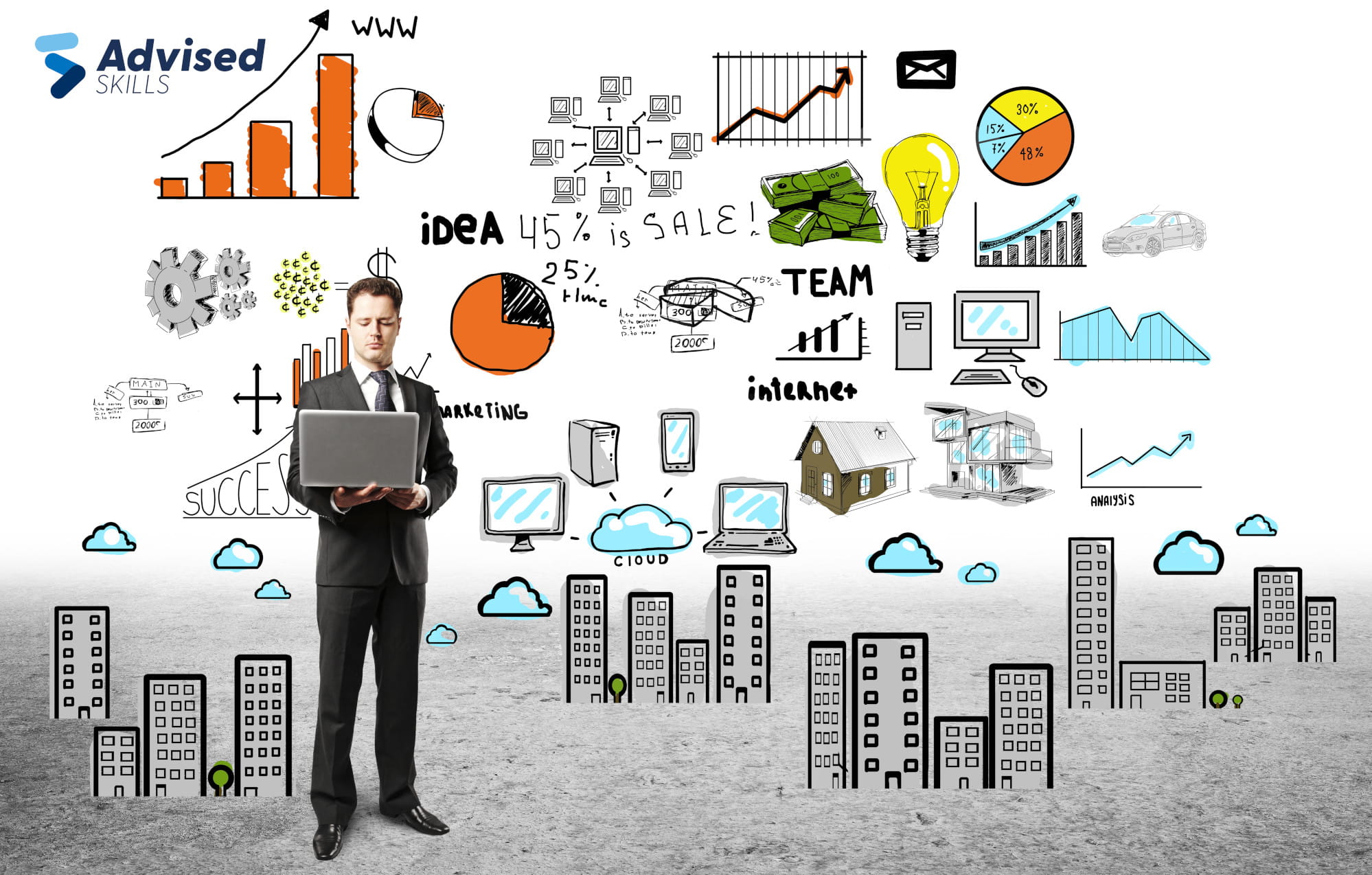 Why is a Business Analyst needed in an Agile team? 
Agile Business Analysts help the team and product by making things easier and solving problems that come up. They help improve business processes by participating in talks and ensuring product quality.
AgileBA collaborates with the entire team, but directly associates with the Product Owner to assist them in all decision-making processes. The Product Owner (PO) (2) focuses on requirements. The Business Analyst (BA) helps the PO analyze them. This collaboration ensures that the project runs smoothly and without problems.
Analyzing is the key
Analysis plays a crucial role in the dynamic world of Agile projects. An Agile Business Analyst carefully analyzes (3) and highlights important areas that the team might miss. Through their in-depth evaluation, the ABA offers clarity and insight, aiding the team in discerning complex issues that demand resolution.
Central to this analytical process are some fundamental inquiries that the Agile Business Analyst delves into:
Assessing Business Processes: Which of the current processes have become redundant or perhaps counterproductive? Are there any that no longer serve their intended purpose and might be better off being discarded?
Optimizing Operational Efficiency: Which processes, although functional, can be further refined? Where are the gaps that allow for enhancements to improve workflow and outcome?
Addressing these essential questions isn't merely a procedural step; it's foundational to the success of the project. By systematically tackling these areas, the risk of encountering unforeseen challenges or stumbling blocks diminishes considerably. Taking proactive steps results in a smoother project, fewer issues, and a final product that meets its goals.
Business Analyst / Coach?
Business Analysts play an important role in the team as they are practically interacting with everyone. Sometimes they even provide coaching for their colleagues with the aim of facilitating collaboration and knowledge sharing. Such activities can be essential to the product and determine its success. It also increases the ties between colleagues, which can enhance team spirit and is evident in the results of the team's work.
What does AgileBA bring to the Agile team?
AgileBA, or Agile Business Analyst, brings a multitude of valuable contributions to an Agile team:
Bridging the Gap: AgileBAs act as a vital conduit between business stakeholders and development teams. They accurately represent, understand, and implement business requirements in the project's deliverables.
In-depth Analysis: Through meticulous analysis, AgileBAs identify areas of concern, potential pitfalls, and opportunities for improvement, ensuring the team addresses critical points that might otherwise be overlooked.
Requirements Management: They assist in gathering, prioritizing, and refining user stories and requirements, ensuring they align with the overall business objectives and stakeholder expectations.
Solution Strategy: Beyond problem identification, AgileBAs also play a role in devising effective solutions, leveraging their comprehensive understanding of both the business and technical landscapes.
Facilitation and Collaboration: AgileBAs often play a key role in facilitating discussions, brainstorming sessions, and reviews, promoting clear communication and collaboration among cross-functional team members.
Risk Mitigation: Through their analysis and insights, they help in reducing the risk of project failures, ensuring that potential challenges are addressed proactively.
Continuous Feedback Loop: AgileBAs ensure that feedback from stakeholders is continually integrated into the project, ensuring that the development remains aligned with evolving business needs.
Stakeholder Engagement: They play a pivotal role in keeping stakeholders engaged and informed, managing expectations, and ensuring that the project's vision remains consistent throughout its lifecycle.
In essence, an AgileBA enriches the Agile team by offering a balanced blend of business acumen and technical insight, ensuring that projects not only run smoothly but also achieve their intended business objectives.
As we can see, the Business Analyst is a much needed role in the Agile approach. They help Agile teams avoid any unwanted problems or inconvenience, and the BA is there to help them. Explore our AgileBA courses and learn how to introduce Agile to Business Analysis. 
External resources:
1. Attlasian https://www.atlassian.com/agile
2. Scaled Agile Inc. https://scaledagileframework.com/product-owner/
3. Systemation https://www.systemation.com/5-tips-for-a-good-business-analyst/
---

Advised Skills Research Team - Blog Author 
The Advised Skills Research Team is a professional group dedicated to investigating and publishing information on the latest trends in technology and training.
This team delves into emerging advancements to provide valuable insights, empowering individuals and organizations to stay ahead.
Their work significantly contributes to the ever-evolving landscape of technological education and workforce development.

Frequently Asked Questions (FAQs): Business Analyst
What does a Business Analyst do?
A Business Analyst (BA) is responsible for bridging the gap between IT and the business using data analytics to assess processes, determine requirements, and deliver data-driven recommendations and reports to executives and stakeholders. BAs engage in various tasks such as defining business needs, gathering requirements, identifying potential improvements, and working closely with technical teams to implement solutions.
Do Business Analysts need to have a technical background?
While having a technical background can be beneficial, it's not a strict requirement for a Business Analyst. The primary skills for a BA include analytical thinking, excellent communication abilities, problem-solving, and understanding business processes. However, in certain industries or companies, familiarity with specific technical tools or languages might be advantageous.
What's the difference between a Business Analyst and a Data Analyst?
While both roles involve working with data, a Business Analyst focuses on identifying business needs, gathering requirements, and finding technical solutions to business problems. On the other hand, a Data Analyst primarily examines large datasets to draw insights, identify trends, and present data in a comprehensible manner to stakeholders. Their focus is more on interpreting data rather than defining business requirements.
Which industries employ Business Analysts?
Business Analysts are employed across various industries. From IT, finance, healthcare, and retail to government and non-profit sectors, the role of a BA is crucial in identifying inefficiencies and recommending improvements in processes, making it a versatile and in-demand profession.
What qualifications are required to become a Business Analyst?
The qualifications can vary depending on the industry and specific employer. However, most Business Analyst roles require at least a bachelor's degree in business, information technology, or a related field. Many BAs also have backgrounds in finance, engineering, or the humanities. Professional certifications, like the AgileBA (Agile Business Analyst) Foundation or PMI-PBA, can also be beneficial and are sometimes preferred by employers.