5 Qualities to Look for in an IT Training Course
When it comes to IT training and other training courses, you want to be trained by the best. Here are qualities you should look for in a course.
Keyword(s): it training
The global IT industry was on pace to reach $3,92 trillion in 2021.
We live in an information age where technology is constantly advancing. We're surrounded by technology every day. In fact, most people couldn't live without it!
Tech professionals are in demand and jobs are widely available. It's no surprise that many people are looking to broaden their skills in the field of IT. One of the best ways to do this is to enrol in an IT training course.
There's just one problem - there are a lot of courses out there. So, how do you know which one to choose? Keep reading to find out 5 qualities that you should look for in an IT training course.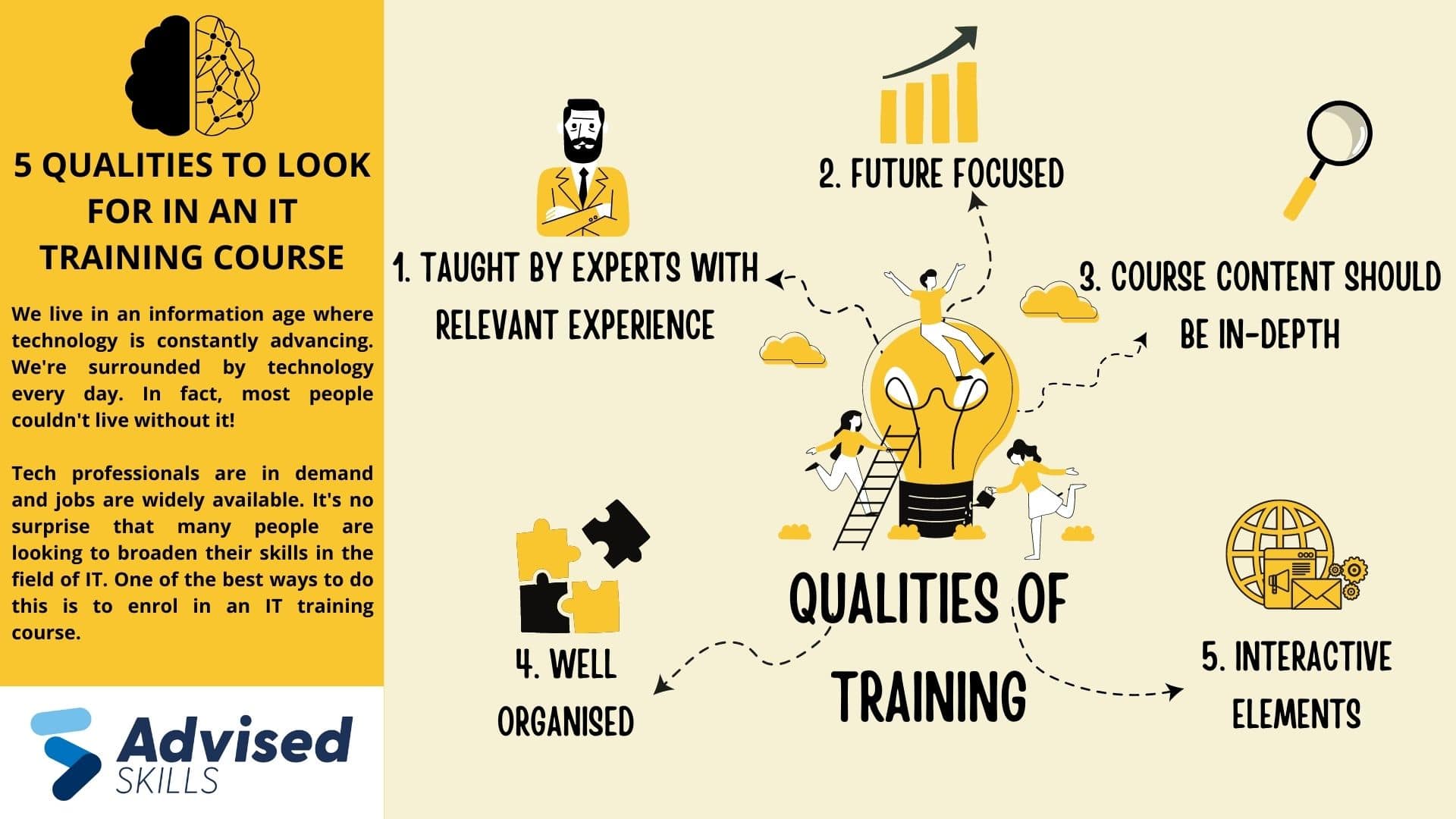 1. Taught By Experts With Relevant Experience
Success in the IT industry requires expert knowledge. By investing time and money into a training course, you expect to receive quality training. So it's important to do some research into who is running the course.
At the end of the day, you're taking a course to learn new skills and broaden your knowledge. Therefore, whoever is teaching the course should already possess both the knowledge and skills you're seeking. At the least, they should have relevant certifications in the technologies they're teaching.
There is an old saying that says a student is only as good as his teacher. To gain maximum benefit from a course, you have to have a top-notch, qualified instructor with adequate industry knowledge.
2. Future Focused
The IT industry is one of the fastest-growing industries today. New technologies are being released at a rapid pace and new, better systems are constantly in development.
That's why it's so important to make sure what you're learning is up to date. Acquiring new skills is great, but if the skills you learn aren't relevant anymore, the course was a waste of time and money.
Don't consider taking a course that hasn't updated its content for a couple of years. Your course provider should be focused on industry changes in order to deliver the most relevant training.
Course providers should keep track of both industry changes and student needs. Course instructors should constantly be improving their skills as well in order to keep pace with industry developments. A good course provider will also train their instructors to keep their skills up to date.
3. Course Content Should Be In-Depth
A good IT training course should be full of content. The content of the course should be in-depth but not overwhelming.
New material should be introduced to students slowly. This makes the learning process easier and more enjoyable. A course that throws everything at you on day one is going to make you feel stressed and confused.
Likewise, a course with too much complex, technical material is going to leave you feeling bored. A good IT course should simplify difficult, technical material to make it more understandable for the learner.
Whether the course is about learning to code or Enterprise Architecture, the material should be presented in a manner that is easy to digest.
When you're looking for a suitable IT training course, check to see if you can preview the content. Analyse the curriculum to see what is being taught and read over some of the material to get an idea of how in-depth it is.
4. Well Organised
It doesn't matter how good the instructor is or how in-depth the content is, if the course is laid out poorly, it's difficult to stay engaged.
You don't want to start a course that's going to confuse you or put you to sleep halfway through. Look for a training course that is well organised and intelligently structured.
Course material should be well written and free of spelling and grammar mistakes. The material should be laid out in a logical fashion. Some of the best IT training courses break up content into multiple modules. This is a good way of breaking the content up into manageable chunks.
Course modules should follow a logical and practical sequence, with each new module building on what was taught in the previous one. The course should have clear learning objectives that are measured through quizzes or appropriate assignments.
5. Interactive Elements
Learning the theory is important but so is putting it into practice.
Engaging and interacting with the material you're taught is an important step in the learning process. That's why you should look for a course that includes interactive elements designed to challenge you and make you think.
Learning the theory without any practice is like trying to learn a language without speaking it. A good IT training course will provide adequate opportunities for you to apply your knowledge.
Applying what you learn is also an important step in identifying how well you understand the material. Otherwise, you may think you understand a certain concept when really you don't.
Practical activities and assignments offer you the chance to consolidate your knowledge. It's also important that course instructors give you feedback after you complete an assignment. You should look for a course that contains lots of practical exercises.
Choose a Quality IT Training Course
When it comes to IT training courses, there are many to choose from. It's important to pick a course that is taught by industry experts who possess the relevant skills. Courses should be well organised and present new information in manageable chunks.
Due to the rapid development of the IT industry, training courses should be future-focused and incorporate the latest industry knowledge and best practices.
If you're looking for top-notch IT training courses, including enterprise architecture training, check out the different courses that we offer.
---

 Marcin Chmielewski - Blog Author 
He has extensive IT knowledge combined with enthusiasm for digital marketing.
His extensive experience and knowledge come from many years of working for large corporations. Associated with Information Technology since the beginning of his career, he has qualifications in the fields of team management, Enterprise Architecture, IT Service Management, databases, application servers, and operating systems.
His hobbies include traveling, skiing, and hiking.
Frequently Asked Questions (FAQs)
What are the top qualities to look for in an IT training course?
- The 5 qualities to look for in an IT training course are:
- Relevant and up-to-date curriculum
- Experienced and knowledgeable instructors
- Hands-on learning and practice
- Flexibility in learning methods and pace
- Post-course support and resources
Why is it important to have a relevant and up-to-date curriculum in an IT training course?
It's crucial to have a relevant and up-to-date curriculum because the IT industry is constantly evolving. An outdated or irrelevant curriculum won't adequately prepare learners for the current job market and may even teach them obsolete technologies or techniques.
How can experienced and knowledgeable instructors contribute to the success of an IT training course?
Experienced and knowledgeable instructors can provide real-world insights, practical tips, and effective learning techniques. They can also tailor their teaching style to meet the needs of individual learners, making the learning experience more engaging and effective.
What are the benefits of hands-on learning and practice in an IT training course?
Hands-on learning and practice allow learners to apply the concepts and skills they have learned in a practical context. This helps reinforce their understanding, improves retention, and builds confidence in their ability to perform tasks independently in real-world situations.
Why is flexibility in learning methods and pace important in an IT training course?
Flexibility in learning methods and pace allows learners to choose a learning style that suits them best, making it easier for them to absorb and retain information. It also enables them to progress at their own speed, ensuring they have a solid understanding of each topic before moving on to the next.
How do post-course support and resources enhance the effectiveness of an IT training course?
Post-course support and resources provide learners with ongoing assistance, guidance, and opportunities for further learning. This can help them continue to develop their skills, stay up-to-date with industry trends, and enhance their employability after completing the course.